Desert Island library
A personal treasury of great books, organised rather artificially by category. This is a work in progress, with the genres and selection liable to sudden change. I plan to add blurbs at some point.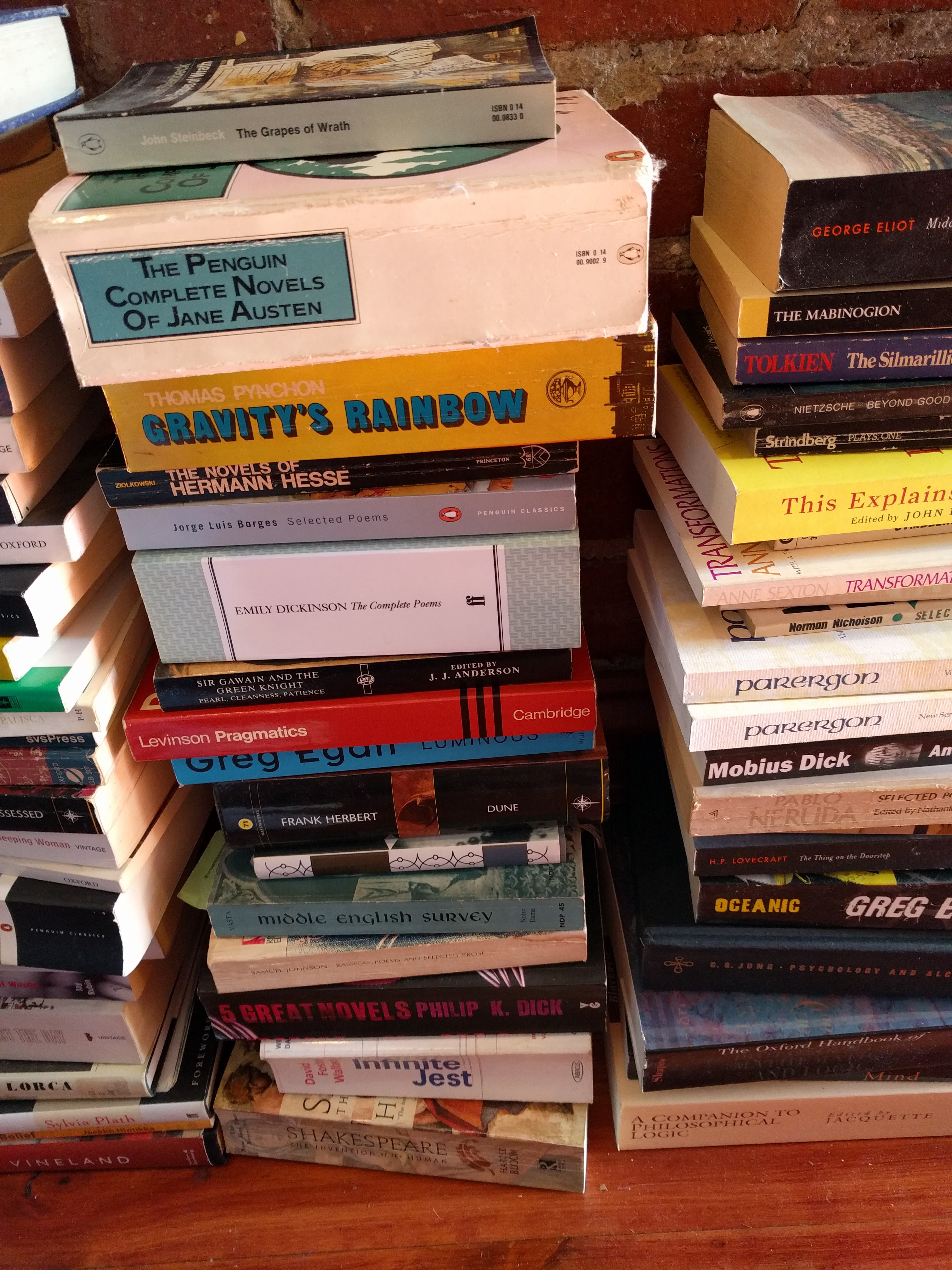 Modern
The Ruined Map (Kobo Abe)
Surfacing (Margaret Atwood)
The New York Trilogy (Paul Auster)
Molloy (Samuel Beckett)
2666 (Roberto Bolaño)
The Savage Detectives (Roberto Bolaño)
Labyrinths (Jorge-Luis Borges)
The Master and Margerita (Mikhail Bulgakov)
If on a winter's night a traveller (Italo Calvino)
Invisible Cities (Italo Calvino)
The Aegypt Cycle (John Crowley)
Little, Big (John Crowley)
Slouching Towards Bethlehem (Joan Didion)
The Name of the Rose (Umberto Eco)
As I Lay Dying (William Faulkner)
The Sound and the Fury (William Faulkner)
The Unvanquished (William Faulkner)
A Moveable Feast (Ernest Hemingway)
Demian (Herman Hesse)
The Glass Bead Game (Herman Hesse)
Steppenwolf (Herman Hesse)
We Have Always Lived in the Castle (Shirley Jackson)
Dubliners (James Joyce)
Portrait of an Artist as a Young Man (James Joyce)
Ulysses (James Joyce)
The Castle (Franz Kafka)
The Complete Short Stories (Franz Kafka)
The Trial (Franz Kafka)
The Leopard (Giuseppi di Lampedusa)
Blue Highways (William Least Heat-Moon)
Prairyerth (William Least Heat-Moon)
Desert Notes (Barry Lopez)
Monsieur De Bougrelon (Jean Lorrain)
Under the Volcano (Malcolm Lowry)
Doctor Faustus (Thomas Mann)
Blood Meridian (Cormac McCarthy)
Outer Dark (Cormac McCarthy)
The Hard-Boiled Wonderland and the End of the World (Haruki Murakami)
Norwegian Wood (Haruki Murakami)
A Wild Sheep Chase (Haruki Murakami)
The Wind-up Bird Chronicle (Haruki Murakami)
The Plains (Gerald Murnane)
Pale Fire (Vladimir Nabokov)
Bluets (Maggie Nelson)
Thus Spake Zarathustra (Friedrich Nietzsche)
The Third Policeman (Flann O'Brien)
Gormenghast/Titus Groan (Mervyn Peake)
The Bell Jar (Sylvia Plath)
Pale Horse, Pale Rider (Katherine Anne Porter)
Maiden Castle (John Cowper Powys)
Wolf Solent (John Cowper Powys)
The Crying of Lot 49 (Thomas Pynchon)
Gravity's Rainbow (Thomas Pynchon)
V. (Thomas Pynchon)
Pedro Paramo (Juan Rulfo)
The Street of Crocodiles (Bruno Schulz)
The Rings of Saturn (W. G. Sebald)
Vertigo (W. G. Sebald)
I Capture the Castle (Dodie Smith)
The Autobiography of Alice B. Toklas (Gertrude Stein)
Confessions of Zeno (Italo Svevo)
Infinite Jest (David Foster Wallace)
Brideshead Revisited (Evelyn Waugh)
Miss Lonelyhearts (Nathaniel West)
To The Lighthouse (Virginia Woolf)
Classics
Sir Gawain and the Green Knight (anonymous)
Emma (Jane Austen)
Mansfield Park (Jane Austen)
Persuasion (Jane Austen)
Pride and Prejudice (Jane Austen)
Sense and Sensibility (Jane Austen)
Jane Eyre (Charlotte Brontë)
Villette (Charlotte Brontë)
Wuthering Heights (Emily Brontë)
Alice's Adventures in Wonderland/Through the Looking Glass (Lewis Carroll)
Don Quixote (Cervantes)
The Odyssey (Homer, tr. George Chapman)
The Canterbury Tales (Geoffrey Chaucer)
Heart of Darkness (Joseph Conrad)
Inferno (Dante)
Great Expectations (Charles Dickens)
The Brothers Karamazov (Fyodor Dostoyevsky)
Crime and Punishment (Fyodor Dostoyevsky)
The Devils (Fyodor Dostoyevsky)
The Idiot (Fyodor Dostoyevsky)
Faust (Goethe)
Diary of a Madman and Other Stories (Nikolai Gogol)
The Sandman (E. T. A. Hoffman)
The Lord Chandos Letter (Hugo von Hofmannsthal)
Against Nature (Joris-Karl Huysmans)
Moby Dick (Herman Melville)
Paradise Lost (John Milton)
Hamlet (Shakespeare)
Henry IV (Shakespeare)
Macbeth (Shakespeare)
A Midsummer Night's Dream (Shakespeare)
King Lear (Shakespeare)
The Tempest (Shakespeare)
Frankenstein (Mary Shelley)
Tristram Shandy (Laurence Sterne)
Anna Karenina (Leo Tolstoy)
War and Peace (Leo Tolstoy)
Adventures of Huckleberry Finn (Mark Twain)
The Aeneid (Virgil)
Science Fiction
Tau Zero (Poul Anderson)
Timescape (Gregory Benford)
The Stars My Destination (Alfred Bester)
Childhood's End (Arthur C. Clarke)
The Fountains of Paradise (Arthur C. Clarke)
Rendezvous with Rama (Arthur C. Clarke)
Babel-17 (Samuel Delany)
A Scanner Darkly (Philip K. Dick)
The Transmigration of Timothy Archer (Philip K. Dick)
VALIS (Philip K Dick)
Diaspora (Greg Egan)
Incandescence (Greg Egan)
Permutation City (Greg Egan)
Schild's Ladder (Greg Egan)
The Moon is a Harsh Mistress (Robert A. Heinlein)
Dune (Frank Herbert)
Ice (Anna Kavan)
The Dispossessed (Ursula Le Guin)
The Call of Cthulu (H. P. Lovecraft)
A Canticle for Leibowitz (Walter M. Miller)
Nineteen Eighty-Four (George Orwell)
The Red Mars Trilogy (Kim Stanley Robinson)
Contact (Carl Sagan)
Anathem (Neal Stephenson)
Roadside Picnic (Boris and Arkady Strugatsky)
Rainbow's End (Vernor Vinge)
Breakfast of Champions (Kurt Vonnegut)
The Chrysalids (John Wyndham)
Poetry
I've sometimes listed particularly strong collections or poems, but otherwise just look out for selections.
Anna Akhmatova
Emily Dickinson
The Waste Land (T. S. Eliot)
Douglas Dunn
Cat Town (Sakutarou Hagiwara)
Federico García Lorca
Ferenc Juhász
Robert Lowell
Janos Pilinszky
Ariel (Sylvia Plath)
Salvator Quasimodo
Rainer Maria Rilke
Yannis Ritsos
Anne Sexton
Wallace Stevens
Under Milk Wood (Dylan Thomas)
R. S. Thomas
Tomas Tranströmer
Sándor Weöres
Song of Myself (Walt Whitman)
Written on August 29, 2018