Market Alley, c. 1890
Market Alley, named after the old Market Hall building, was a busy commercial street through much of the early 20th century. It housed both legitimate and illegitimate businesses, the latter category including several opium factories (though this was perfectly legal when the street was first established in the 1890's). Market Alley was also part of Vancouver's old red light district, and prostitutes could advertise their rooms on the street's directory listing (see Fig. 2).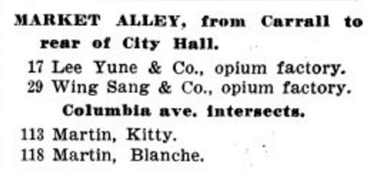 As part of early Chinatown, Market Alley became one of the focal points for racist attacks during the violent 1907 riots by the Vancouver's Asiatic Exclusion League. Asiatic Exclusion League — group started in the US in 1905, brother organisation in BC formed in 1907 with stated aim of keeping "Oriental immigrants out of British Columbia". Many businesses were trashed and looted by rioters, including several opium factories. The ensuing claims for compensation by opium-related businesses, in addition to anti-opium lobbying by activists groups, lead to the creation of Vancouver's first drug law, which banned the use of opium for all but medicinal purposes. Once the opium law came into force in July 1908, authorities began their search for one of the most notorious opium dens of Vancouver — a den that just so happened to be on Market Alley. The Vancouver Police Department (VPD) searched high and low for months, but it was the "trapdoor" found by a pocket-knife-wielding sleuth who sliced along a random door jamb plastered over with newspapers that finally led to the hitherto elusive den. The police raid following this discovery caused great shock when the two patrons inside were found to be white women, namely May Doyle and Nell Robertson.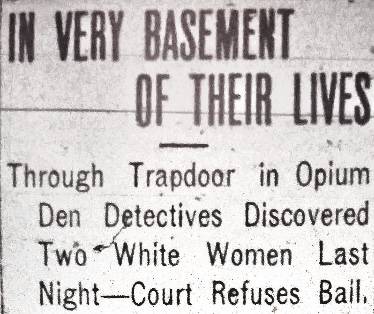 Despite the sensation caused by the discovery and ensuing newspaper article (above, Fig. 3), only the Chinese den operator, Chan Yuen, was charged with any criminal conduct.
---
0138
Coastal pearl of great degree; an Eastern hijack's casualty.