Hogan's Alley, c. 1920
Hogan's Alley had a large black presence from the 1920's, especially after a black church by the name of 'Fountain Chapel' opened on the corner of Jackson Avenue and Hogan's Alley in 1922.
Like Blood Alley, the actual provenance of the name "Hogan" is unknown, but was likely a reference to an 1890's newspaper comic strip Hogan's Alley featuring the Yellow Kid Yellow Kid — satirical comic character, popular in the late 20th century; a bald, snaggle-toothed boy with an oversized yellow nightshirt and goofy grin. in New York's Irish slums. At that time, invoking the name of the alley in reference to campers (such as those who camped on English Bay in the summers) was an insult, meaning that they were "slumming it".
Hogan's Alley's borders, at least in reference if not in actuality, expanded to include other areas. At first, it was extended to another lane which ran east between Union Street and Park Lane. This lane was notorious in the 30's and 40's for housing bootleggers, after hours clubs, and gambling joints. More recently, 'Hogan's Alley' has come to refer to the historic black community both within and surrounding both lanes, including a particularly famous southern fried chicken joint that once stood on the corner of Union Street and Park Lane. Formerly a bootlegging joint Vie's was open every day from 5pm to 5am, and only served fried chicken and steak. Each steak was cooked in a giant cast iron pan on an oil fired stove that heated the entire restaurant, and Vie was famous for never burning a steak. Vie's Chicken and Steak House was originally Louis Mattlo's bootlegging joint. In 1937, the VPD decided to padlock the building to punish/discourage bootlegging, but accidentally padlocked the family tabby cat inside the building. Police officers were forced to go back into the padlocked building to rescue the cat. , Vie's Chicken and Steak House sat on the corner of Union Street and Park Lane, and for more than 30 years played host to some of the most incredible black performers of their times, including Nat King Cole, Louis Armstrong, Sammy Davis Jr, Ella Fitzgerald, and later Jimi Hendrix. Jimi Hendrix's grandmother Nora Hendrix was actually a founder of the Fountain Chapel, and worked as a cook at Vue's Chicken and Steakhouse.
Hogan's Alley was eventually demolished, along with other black neighbourhoods, as part of preparations to build a network of freeways in the 1960's. Due to public backlash the freeways were never actually built, but the Georgia and Dunsmuir viaducts still lie across what was once Hogan's Alley.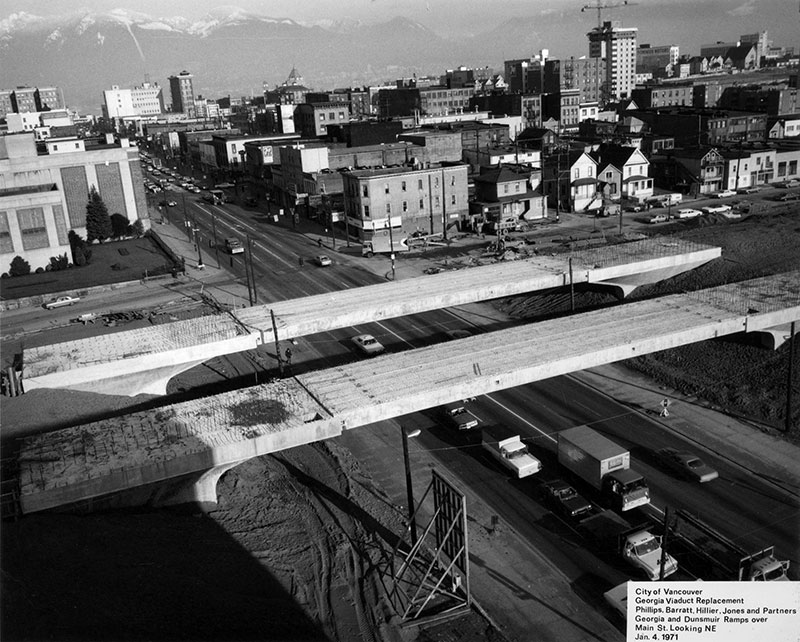 ---
374)
Please proceed to the coordinates!